TUV CERTIFICATION
General quality assurance IP Siebel
>> One's own quality management system in the office
>> Qualified , experienced and knowledgeable project team
Our planning office has implemented a quality management system in 2014. It was worked out with a quality management manual with our team. In the quality manual assessable goals and objectives are defined , which are intended to regulate the quality of work , work processes , the storage and preservation of data , the powers and communication , the accessibility of the team and many other aspects of binding and thus ensure customer satisfaction . The quality management system or manual is certified by the Quality Certificate directions on construction by TÜV Rheinland and regularly audited . As part of the quality management system, it is a continuous development and self-control. It is a professional management of projects with fixed routes and backup tools , so that accessibility , project documentation , data exchange and access to data is always backed up .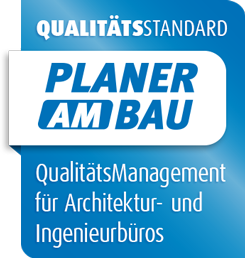 IWW INSTITUT – Employer seal
Excellent planning office
>> The seal of quality for the best employers
>> Standing out from 125,000 offices
In 2022, our office took part in the "Outstanding Planning Office" seal of approval. As a result, we successfully passed the audit for the employer seal "Excellent Planning Office" and are therefore a seal holder. The audit included eight fields of action that make a planning office an attractive long-term employer: corporate development, work organization, digitization, sustainability, personnel planning, personnel recruitment, personnel development and personnel retention.
STRONG PARTNER AWARD
>> The largest architectural offices in Rhein-Wupper
>> Award in the top 20 as a leading regional service provider
Our office is one of the largest architectural offices in Rhein-Wupper to be identified in a relevant business directory.